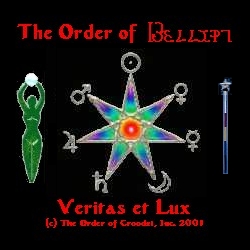 About

The Order of Croodzi

The Order of Croodzi was formed in October, 2001 by myself, Athenroy, in an effort to promote and encourage a better understanding of the Occult Arts such as Wicca, Ritual Magick, Neo-Paganism, and all esoteric paths. It is our belief that everyone must form their own concept of Divinity, whether it be God or Goddess, one God or many. We must also face the reality that we are all responsible for our own actions, hence the Latin motto on our emblem, Veritas et Lux, Truth and Light. The Name of our Order, Croodzi, comes from the Magickal language called Enochian, and means "A new or second beginning of things", which our life should be, once we master the Occult arts. Membership in The Order is free to all who seek it and are over the age of eighteen. Whether a member or not, please feel free to use the services we can provide for you. If you would like to join us and recieve our monthly News letter, and the benefit of belonging to an Esoteric Order, just click on the Join button below.

Our Mission
The Order of Croodzi is committed to upholding the
Wiccan Rede
and creating a community where all Pagans, Wiccans, Ritual Magicians and those who have chosen alternative Spiritual paths are welcome and accepted as equals. Further, we believe that every person has something to bring to the overall experience of magick and spirituality. Every person should have the right and opportunity to learn, and to realize his or her own magickal potential.
The Order of Croodzi also believes strongly that the Internet is now the meeting ground for Alternative Religions and beliefs. Until the recent explosion of pagan-oriented websites, those following alternative paths were isolated, rarely finding fellowship and having little connection with the world at large. The Internet has changed that. Organizations like The Order of Croodzi have an obligation to provide a forum for all those following or seeking an Alternative Path, to meet. Our membership is not restricted to Wiccans, Magicians, or Pagans. We welcome all those who have chosen an alternative spiritual path from Magician to Wiccan, from Egyptian to Thalamic, Gnostics, Shamanists, Native Americans and all those in between.
Lastly,The Order of Croodzi is committed to becoming a public resource for all. The services provided by our web site are free to all visitors to use. We believe that we have the beginnings of one of the most diverse, thorough and comprehensive Alternative Path sites and we intend to continue updating our site as long as there is a need. We welcome all opportunities to grow and to provide for the needs community!